Ingredients: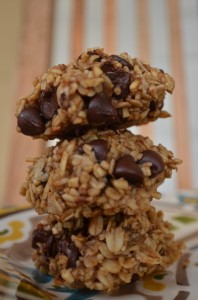 3 whole, peeled and ripe bananas
1/3 C Coconut Oil
½ – 1 tsp Ground Cinnamon
2-3 C Rolled Oats (be sure to use oats labeled 'Gluten Free')
½ – ¾ C Dark Chocolate Chips
In medium bowl, combine bananas, coconut oil and cinnamon. Use fork or hand mixer to blend together until smooth.




Add oats and blend together with a fork until even. The batter should be thick with a hearty consistency. Add more oats as needed!




Lastly, add the dark chocolate chips and blend until evenly distributed!!

Form batter into round, flat pieces about 2 inches in diameter and place on a cookie sheet. The cookies will not spread so pack 'em on the sheet!!!! Bake at 250 for 25-35 minutes (until cookies are lightly browned on top)!!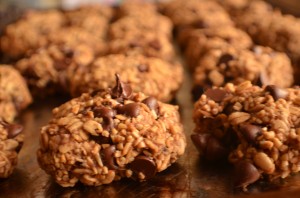 Feel free to get creative with the recipe, instead of chocolate chips, you can also use raisins, nuts, dates or any other delicious treat you desire!!! Enjoy and share with LOVE!!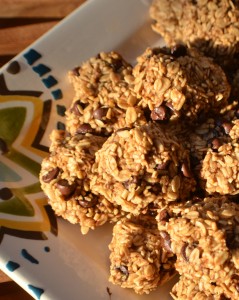 You Might Also Enjoy: