by: Jessica Lynne Trese
Ekam Inhale…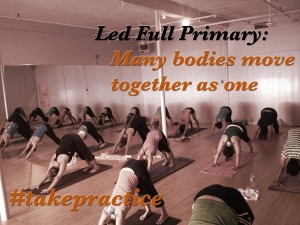 Two words, two languages, one breath, one practice.
Hearing those two words inspire a moment of spontaneous meditation for me. For a moment, I can feel the mat beneath my feet, I can feel Sharath's presence on the stage nearby. The grace of surrender floods my system and ease fills my heart.
Surrendering to the pulse of Ashtanga Yoga, surrendering to the pace of the vinyasa count allows me to dive into the waters of the moving meditation. Stilling the mind and calming the body. The next 90 minutes are a concentrated experience of Breath, Bandhas and Dṛṣṭi.
Then rest, peace and tranquility pervade the physical, energetic and mental bodies. Stillness abounds.
The Ashtanga Full Primary.
---