By: Jessica Lynne Trese (Moore)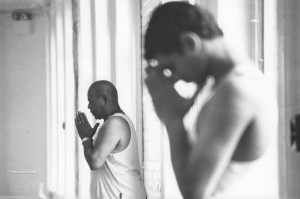 "Samasthiti."
At this sound, we all join together. Wherever we each were in the practice, now we are all here together, at the top of our mats. Uniting our energy together through sound, the vibration of 'om' moves through the room, moves though our hearts.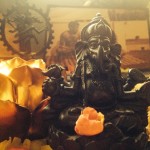 The Ashtanga opening mantra is a call to practice. A recognition of the teachers who have come before us and an acknowledgment of the work we are here to do on our mat. This practice is not merely yoga poses. We are here to overcome the cycles of physical and mental suffering in our lives. Our goal is to no longer be bound by the poison this suffering flushes into our hearts.
And with time, devotion and consistent practice, we will start to experience peace. We will start to find the neutral ground which allows us to be fully present in each moment of our lives. And in those moments of pure connection, we are able to connect to the Divine in every thing.
This mantra is a reminder of why we're practicing.
So, next time your teacher calls "samasthiti" let your chant be a vow to yourself, a reminder to connect to the Divine, and a reminder that the practice is much more than simple (and not-so-simple) yoga poses.

Om
Vandē gurūṇāṃ caraṇāravindē
Sandarśitasvātmasukāvabōdhē |
Niḥśrēyasē jāṅgalikāyamānē
Saṃsārahālāhalamōhaśāntyai ||
Ābāhu puruṣākāraṃ
Śaṅkhacakrāsidhāriṇam |
Sahasraśirasaṃ śvētaṃ
Praṇamāmi patañjalim ||
Om

Translation
om
I bow to the lotus feet of the Supreme Guru
which awaken insight into the happiness of pure Being,
which are the refuge, the jungle physician,
which eliminate the delusion caused by the poisonous herb of Samsara (conditioned existence).
I prostrate before the sage Patanjali
who has thousands of radiant, white heads (as the divine serpent, Ananta)
and who has, as far as his arms, assumed the form of a man
holding a conch shell (divine sound), a wheel (discus of light or infinite time) and a sword (discrimination).
om
---