Hear from Program Graduates: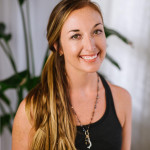 Caroline Williams, LMT – I began my journey into Ashtanga Yoga in early 2013, with Jessica Lynne as my Mysore teacher. In 2015, I completed Ally Ford's Ashtanga Yoga Teacher Training, and am Registered as a 200-hour Level Teacher. In 2016, I completed Phase 1 of David Kyle's Rocket Yoga Training, a 50-hour course introducing this Progressive Ashtanga method. In October 2017, I completed a 600+ hour Mysore Ashtanga Apprentice with Jessica Lynne. I am honored for all of the teachers that have guided me to where I am today, and for all of those to come. In addition to teaching yoga, I am a Licensed Massage Therapist, specializing in the healing art of Thai Yoga Massage. I am beyond grateful for the opportunity to share the practice with others.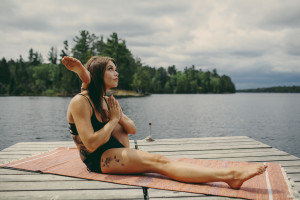 Brittany George – When I began my journey with Ashtanga, I was 22 years old. I was 22 years old and lost. I spent most of my time before then in relationships where I was mistreated, in bars where I had become a regular, in jobs I had no passion for and I distanced myself from my true feelings that I had been burying for quite some time. I may have had everyone else convinced I was fine, but I knew myself more than I wanted to admit. Despite my self deprecating behavior, deep down, way beneath the hurt, I was ready for something, anything really, to hurl me back into reality. I was ready to face my demons. It was then, in the midst of my downward spiral, that I found Ashtanga. Thank all that is divine.
Ashtanga pulled me from out of the muck. It gave me something to look forward to daily…a routine amongst the chaos of what my life had become. It paved the way for me to kick bad habits I had been neglecting to otherwise. When I committed myself to this daily practice, I also lost all desire to self destruct. I quit smoking, cold turkey! I began saying no to the late night shenanigans because I knew I had to be up early the next day to practice. Before I knew it, I had left my jobs in the bar and began to look for work elsewhere. I found myself for the first time in a relationship with a partner who actually valued me and constantly reminded me of my self worth. Little by little, but still relatively quickly in the grand scheme of time, I changed my life. I owe it all to this beautiful practice.
Years had passed and I was still a dedicated student to the practice. I spent most of my time (and money) on workshops and intensives, practicing and studying with authorized and certified teachers because I wanted to learn Ashtanga in the most authentic and true way I could. Straight from the source. I studied with teachers such as Tim Miller, Greg Nardi, Kino McGregor, Tim Feldmann, Richard Freeman, Daylene Christensen, Krista Shirley, Patrick Nolan, Diana Christenson, Lisa Schrempp and of course ours truly, Jessica Lynee Trese. I began to recognize how invested I had become on this path of a yogi. I experienced first hand the transformation it had on my life and I felt like it was my duty to convince everyone else as well. I wanted to share with people the transformative effects of this practice, so I decided to take a 200 HR Teacher Training program with a local teacher, Jade Skinner who had a major impact on me and my journey as an Ashtangi.
I graduated a RYT ( Registered Yoga Teacher) in Ashtanga Vinyasa and began teaching as much as I could. It wasn't long before I had a full teaching schedule and left my day job to peruse my passion in full force. Even though I became I teacher I was still very much a student. A student of Ashtanga who was still hungry for more knowledge, a deeper connection to the source. It was after two failed attempts at applying to KPJAYI in Mysore India and not getting accepted due to a high volume of students traveling there yearly, that I came across the apprenticeship program with Jessica. I knew if I wasn't able to travel to India to study that I was going to use the opportunity to delve deeply into the tradition here on my home turf. So, I applied for the traditional Ashtanga studies and Mysore apprenticeship with Jessica. I began the apprenticeship just a few months after.
I wasn't new to the Mysore room. I had been practicing in it for four years and had assisted in Mysore rooms both in St.Petersburg at the Body Electric with Jade Skinner, and White Orchid and The Yoga Room in Dunedin with Calley Mason. Both experiences with Jade and Calley helped to shape me into the teacher I was when I arrived at Yogani to begin working with Jessica. 9 months working intimately with both Jessica and the students of Yogani had passed and I had graduated the apprenticeship program. Over 600 hours were calculated between the Mysore room and other classroom settings. Jessica taught me more in 9 months than I could have ever imagined possible. She changed my entire outlook on the practice, not just as a teacher but as a student too. With Jessica, I was able to see the bigger pictures when it came to the practice and the individuals practicing it. She allowed me to really see Ashtanga as the therapeutic and healing practice that it is. Working with Jessica I gained knowledge, experience, confidence and understanding as a teacher. 4 things that I consider to be the most important thing while guiding students as personally as you do in the Mysore room. I am so grateful for everything that Jessica has shared with me and continues to every time I step onto my mat as her student.