It was 2008, I was traveling in India for the first time and immersing myself in Ashtanga Yoga. I'll be honest, when I first traveled to Mysore, I was not a dedicated Ashtanga practitioner. I LOVED Ashtanga Yoga, I just didn't practice it 6 days a week. Yet, I was ready to dive in and see what it would be like to commit to the daily Asthanga practice.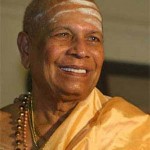 At this time, Guruji was still with us, openly sharing his energy and his knowledge with hundreds of students each day. I remember when I went to the office to register for the first time, I was speechless. It was an incredible experience to simply be in his presence. His eyes were so filled with kindness, love, knowledge and compassion; and he touched my heart with his smile.
Each day, I practiced with Sharath, allowing myself to experience this beautiful practice from the source. I felt great. I was really connecting to the Ashtanga Yoga method, yet nearing the end of my first month in Mysore, I was unsure if I would be able to commit solely to Ashtanga Yoga upon my return to the States. I just wasn't sure.
One day, waiting in the lobby for Sanskrit class to begin, I was sitting on the bench as Sharath was walking with Guruji to the front stage. When they passed the door, Guruji looked at me with his kind soulful eyes and he points to me and says 'You, you come back, you take practice.'
I was left speechless once again! With my mouth agape I gasped 'ok' and frantically shook my head. It was in that moment that my committed relationship with Ashtanga Yoga was really born. I was in for the long haul. I already felt amazing physically, and knew the practice had healed countless students through the years, and those seven words from Guruji sealed the deal. This would be my practice. I would commit.
I'm still practicing Ashtanga Yoga, 4 years later, 6 days a week. There are days when I don't want to, and there are days when I doubt the practice. It's on those days when I hear Guruji's words clearly in my heart. '…you take practice.'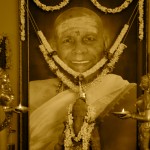 And so I do. Even on the tough days, I roll out my mat and surrender to the rhythm, to the breath, to the practice…
Everyday is different, and everyday I am grateful for what this practice has given me.
'…you take practice.'

You Might Also Enjoy: