by: Jessica Lynne Trese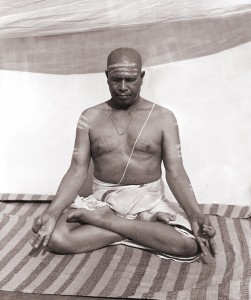 Walk in to any Mysore class around the world and the first two things you will probably notice are the breath and the postures. All the students in the room are moving at their own pace, with focused minds, graceful movements and the same deep, steady and even breath. There is a rhythm to this breath. It has an almost hypnotic quality, continually drawing students inward to the present moment. Allowing them to experience their yoga practice for all it is in each moment. And then, allowing them to move on to the next moment without attachment to what has come before or what may be coming next.
"Ashtanga Yoga is a breath practice, the rest is just bending." One of Guruji's famous quotes. A student who first hears this from their teacher might be confused, frustrated or just roll their eyes. It is hard to imagine a practice that is so physically demanding can be simplified into 'a breath practice'. It is a practice in controlling the breath. A practice in presence. A practice in being able to keep your breath steady, even and regulated no matter what position your body may be in.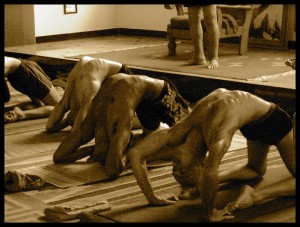 That is why we do all the crazy asanas!! That is why we try to bind our hands in Marichyasana D, pull our feet behind our heads in Supta Kurmasana, and grab our heals in Kapotasana.
We put ourselves in challenging, uncomfortable and awkward situations on our yoga mats so we can practice breathing. Practice detachment. Practice presence in each moment. And, so we can develop the discernment to maneuver through these challenging, uncomfortable and awkward situations on our yoga mats with poise, grace, ease and hopefully without causing ourselves pain.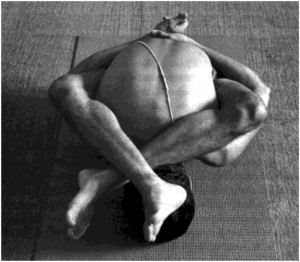 We practice this daily.
We practice this, so when we are in challenging, uncomfortable and awkward situations in life we are able to access some of this same poise, grace, and ease we have cultivated on our yoga mats. So we are able to breathe and hopefully maintain a clear mind and compassionate heart.
Sometimes life is going to be uncomfortable, and even painful, just as our physical asana practice can be sometimes. That is unavoidable. The Ashtanga Yoga method provides an opportunity for us to practice the way we manage these situations, by practicing breathing in all of those crazy postures. The physical asanas are the tools we use to practice breathing.
---