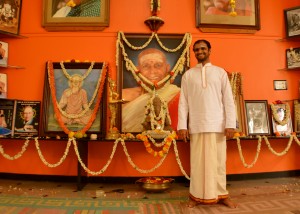 Last summer, in one of Sharath's conferences, he was talking to us about the importance of practicing with one teacher, when a student asked 'What if jobs, family and finances won't allow us to make it to Mysore to practice with you every year?' The essence of Sharath's answer was this: When you can't practice with your teacher, place a picture of Guruji wherever you are practicing and he will be there. Sharath's answers may seem simple, but they are truly powerful.
I often practice by myself, with no teacher. This leaves me on my own to complete my practice, to find the motivation to do each vinyasa, to find the stillness to practice breathing and presence in each moment. And honestly, it's really hard sometimes. Sometimes I don't want to practice, sometimes I feel doubt, and yes, sometimes I feel pain. Then I hear Sharath's words: 'place a picture of Guruji where ever you practice and he will be there' and I practice anyway, with Guruji's eyes smiling at me from his photo.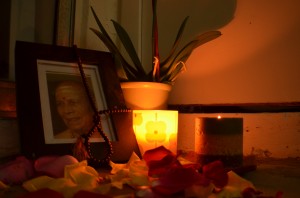 On my first trip to Mysore I met Guruji. He touched my heart, changed my practice and changed my life with only a few words. I'm so grateful for the moments I had with Guruji. And the teachings I've received from Sharath are priceless, I hear his voice when I practice, I remember his encouragement, I see his smile.
In the grand scheme of things, our daily asana practices are the steps along the journey of Self-discovery that is Yoga. Asthanga Yoga is a journey inward, a journey to reveal your true Self. Along this journey, we will feel pain, we will experience doubt, frustration, and we might even cry. We will also find stillness, release anger, grow and evolve in ways we never dreamed possible. But we will only reap the benefits of this practice if we actually do it, if we actually practice.
And then, in the midst of those feelings of doubt and frustration, when we're able to roll out our mat and practice anyway; the benefits of the practice are able to fill our heart, to fill our life!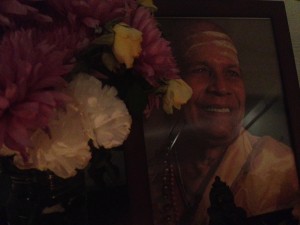 And so, I practice. Even on the days I have doubt. And especially on the days when I just don't want to. I roll out my mat, and light a candle beside Guruji's picture and I practice. I see Guruji's smile, I remember his words and I see the joy in his eyes and along with Sharath's teachings woven into the fabric of my practice, I am able to continue a daily practice. I'm able to continue along this path of Self-discovery.
---