About Yoga Chikitsa's Apprenticeship Program: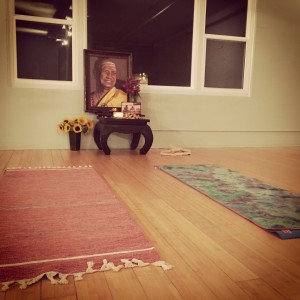 Pre-requisites:
• Daily traditional Ashtanga Yoga practice for two or more years
• Practicing in Second Series
• A strong desire to dive into the tradition of the Ashtanga Yoga practice and learn.

Back to top

---

Program Requirements:
• Completion of nine months of intensive study under the guidance of Jessica Lynne
• Working in the Mysore room two times per week with Jessica Lynne
• Practicing in the Mysore room at least once a week with Jessica Lynne
• Monthly private/group sessions with Jessica Lynne to study, learn, review, discuss and practice
• Weekly Chanting & Meditation with Jessica Lynne
• Traditional Ashtanga practice, six days per week, honoring moon days, Saturdays and Ladies Holiday
• Honoring Parampara apprenticeship studies must be limited to Yoga Chikitsa's program only until the completion of the program
• Full Payment of Apprenticeship fees
• Completion of all reading and written assignments
• Completion of final teaching practicum

Back to top
---

Break-down of Hours:
• Direct – Hands-on Teaching instruction in the Mysore room – 2 days/week, 3hrs/day – 232 hours
• Direct – Chanting and Meditation instruction – 2hrs/week – 78 hours
• Direct – Required practice with Jessica in the Mysore room – 2hrs/week – 78 hours
• Direct – Monthly private sessions with Jessica Lynne – 12+hrs/month – 108 hours
• Direct – Total – 496
• Indirect – Reading and Homework Assignments – 3hrs/week – 116 hours
• TOTAL – 612 hours

Back to top
---

Course Includes:
• In-Depth study of the tradition of Ashtanga Yoga with Jessica Lynne
• Unlimited Mysore practice with Jessica Lynne for the duration of the apprenticeship program
• Complimentary attendance to any workshop (retreats are not included) taught by Jessica Lynne while actively enrolled in Yoga Chikitsa apprenticeship program
• Hands on guidance on leading beginners, intermediate, advanced and injured students of all ages and physical backgrounds in the Mysore room
• Comprehensive Sanskrit study
• Comprehensive Yoga Sutra and Yoga Philosophy study
• Comprehensive study of Prana, Vayus and how to work with theses energies in the Mysore room
• In-Depth study of the Ashtanga Vinyasa Count and using it while teaching traditional Ashtanga classes
• Upon completion participants will be awarded a Yoga Chikitsa certificate of completion

Back to top
---

Cost:
• $2,650 if paid in full at the start of the apprenticeship program (this price includes initial $500 non-refundable deposit) OR
• $500 initial non-refundable deposit and eight monthly payments of $295 beginning the second month of apprenticeship

Back to top
---
* January 2018
Work in the Mysore room with Jessica will be on-going from January 2018 through the end of September, individual schedules will be finalized after registration.

Group Monthly Sessions will be held:
Saturdays – 10:00am – 5:00pm
Sundays – 9:30am – 4:00pm

January 13-14
February 10-11
March 3-4
April 14-15
May 12-13
June 9-10
July 14-15
August 11-12
September 22-23

**Only three apprentices will be accepted per enrollment date** Apply Today!

---